Taking care of your pool properly is essential. Brothers Pool Services is the resource to keep you pool clean and trouble-free. Proper maintenance will not only add life to your pool, but also will protect one of your most important home investments. You can count on prompt, reliable, professional service from Brothers Pool Services. We are fully-licensed and insured.
Complete Pool & Spa Cleaning includes:


Vacuuming, brushing, clean debris & algae


Control Alkalinity & Ph (backwash included)


We are fully-licensed & insured
Other services available (at additional fees):

Monthly, biweekly & weekly maintenance


Filter cleaning & pool draining


Chlorine & acid (Ask about a low-chlorine alternatives)


Repairs on motors, pumps, timers, heaters, pool lights,
automatic chlorinators and plumbing


Repair parts for all brands
We handle Commercial accounts, too!


Monthly, biweekly & weekly maintenance services available


Update to L.A. County Health Department Guidelines


Multiple building discounts available


Fully-licensed & Insured
OUR SERVICES INCLUDE:

Pool Remodeling

Plaster Start-ups

Pool Equipment Sales

Pool Equipment Repairs


Pool Reports with FREE
on-site estimates


Acid wash/Chlorine wash


Tile Cleaning


Green water clean-ups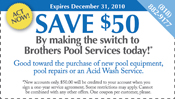 Save $50 by switching today!
Click here to get our latest coupon!